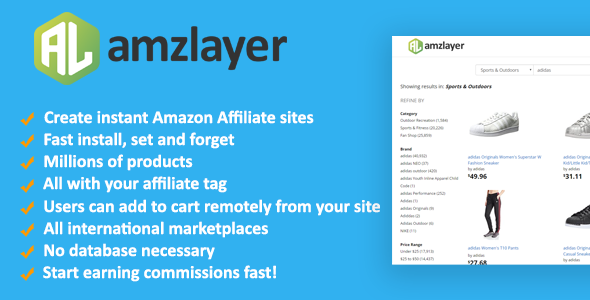 Amzlayer is a PHP script that you install on your own website hosting account and you will have a store with millions of products.
DEMO
Email Campaigns
Amazon doesn't allow promoting affiliate links in email campaigns. So you can find the corresponding product page on your Amzlayer site and link that in your emails.
Social Media
Amazon doesn't allow you to post affiliate links on social media sites Instagram, Quora, Reddit. Facebook groups usually don't allow the promotion of affiliate links. In these cases, instead of posting an affiliate link to Amazon on Instagram for example, you can also use the product page on your Amzlayer site and you'll be fine.
Tell Friends
Tell your friends and family to buy from Amazon using your site and earn comissions every month.
90 Days Cookie
The standard Amazon affiliate link gives you 24 hours for a customer to make a purchase, in order for you to earn a commission. Amazon will extend your cookie by another 89 days if the customer adds a product to their cart (only for the products added to the cart). Amzlayer will add the products to cart on your site before sending the user to Amazon so your users will get the 90 days Amazon cookie.