A tool to
highlight products that caught your users' eye
and send targeted offers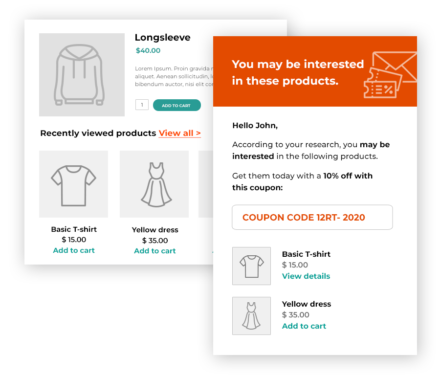 If you are not satisfied with our products, you will receive a 100% refund for any reason.
What the plugin does
Check your users' navigation history: use it to highlight those products that they have previously viewed and send them tailored emails with special offers.
How you can benefit from it:
Boost conversions by highlighting those products that caught your users' eye and they are possibly interested in;
Improve the user experience by providing quick links to your users' beloved products and build a stronger connection with them;
Send strategic emails to push your users to buy: invite them to come back to your site by reminding them of the products they were interested in;
Encourage your users to buy by offering them a discount code and dedicated promotions on the products they have viewed.
This plugin is used by
3.316
customers
, with a rating of
4.5/5
and a
97%
customer satisfaction in support!